Ladies Day at Greenisland FC Chess 21st November
First event in the series (or so we hope)! Greenisland FC Chess is hosting this event on Sunday 21st November 2021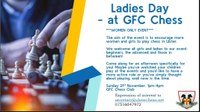 We are delighted to announce a women only event at Greenisland FC Chess club on Sunday 21st November 2021.
We have seen an increase in girls playing chess at club level and competitions. We are hoping to encourage them, their friends, and families to join clubs and play in more tournaments.
The aim of this and future events is to give a space where we can encourage girls and women who already play in Ulster to have a space and time where they can play against other women, but also we hope to encourage more newcomers who are girls and women into chess in Ulster. We would like to showcase the different clubs available which is why the event will be rotated to different venues. Is your club interested in helping with our initiative? Let us know!
Please see below a rough indication of times for the event 1pm - 4pm:
1pm – 1:20pm:             Arrivals. Tea & coffee with Meet & Greet
1:20pm – 1:30pm:        Chris and Karina to introduce themselves and the initiative as well as sharing the Women's Development plan.
1:30pm – 2.30pm:        Chess Talk (Guest Speaker TBC)
2:30pm – 4pm:              A three round competition with those who attend (Time control not yet set)
We hope to see some new faces among you!
See our Event Poster; details on our social media channels also.