Lisburn win Ulster Team Rapidplay Championship
Not content with winning the Belfast and District League, the Longstone Street outfit claim rapidplay honours in Derry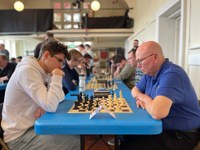 The City of Derry Chess Club hosted this year's Ulster Team Rapid Championships on Saturday 22nd April at the Verbal Arts Centre, with Brendan Jamison volunteering to run the event so it could be FIDE-rated.

A big thank you to Derry Chess Club President Ronald Simpson, Treasurer Allan Turnbull, and Adam McCallion for all the wonderful photography throughout the day (full album available on the club's Facebook page and additional photographs available on the UCU page). Players were treated to a very warm welcome by Derry Chess Club, with hot drinks and lots of buns for everyone to enjoy when they arrived.

It was a magical day of fun and friendship.
Division 1

Lisburn - 21.5 - Champions
Derry 1 - 15.5 - 2nd Place
Bangor - 15  - 3rd Place
QUB 1 - 15
Civil Service 1 - 12.5
Division 2

Derry 2 - 11 - Div 2 Champions
Civil Service 2 - 10.5 - 2nd Div 2
Omagh - 9.5 - 3rd Div 2
QUB 2 - 7
Team 10 - 2.5