The Time Traveller - Belfast -v- Dublin 1928
First published in the Ulster Chess Chronicle in June 2003
Belfast -v- Dublin 1928
by David McAlister
On the 25th February 1928 teams from Belfast and Dublin took part in a friendly match between the two cities. This was the third year in a row that such a match had taken place and it was rapidly turning into a tradition. Below is an edited report on the event from the Belfast News-Letter for the 27th February.
"The third of the series of annual chess matches between Belfast and Dublin took place on Saturday last in the Shaftesbury Tea Rooms, Donegall Place. Twenty-three boards were played, and the result - a win for Belfast by the odd game - probably represents the comparative strength of the two reams. In the older city, with its greater traditions and its many other advantages, chess, as might be expected, has had a firmer hold, and the average strength of any dozen players taken at random in Dublin would have been in past years higher than that of a similarly selected dozen of our own players. This could not be said now, for chess has advanced considerably in Belfast of late years in regard to both number and the strength of the players, and the record of the past three years shows that the Northern players as a whole can at least hold their own against their Southern rivals.
The visitors arrived by the midday train and were entertained to lunch by the Belfast players. Play began at 2 p.m., and it was agreed that it should cease at 5.30, all games not concluded at that hour to be adjudicated by the two team leaders, Messrs. Philip Baker and J. J. O'Hanlon. The visitors had white at the odd-numbered boards.
First score fell to Belfast, McCarron of St.Paul's securing a speedy victory against F. A. Bonner."
M. McCarron - F. Bonner, Belfast -v- Dublin, Board 20
[Annotations from the Belfast News-Letter for 8th March 1928]
1.d4 d5 2.e3 e6 3.Nf3 Bd7 4.Bd3 Nf6 5.0-0 Nc6 6.c3 Qe7 7.Nbd2 0-0-0
A risky move, directly inviting the White Pawn advance that follows immediately.
8.b4 Nb8 9.a4 Ne4
Presenting his opponent with a Pawn, without getting any compensation.
10.Nxe4 dxe4 11.Bxe4 Bc6 12.Bc2 f5 13.b5 Bd5 14.Qe2 Nd7 15.e4 fxe4 16.Bxe4 Nb6
And now Black overlooks the loss of the exchange.
17.Bg5 Qd6 18.Bxd8 Qxd8 19.Bxd5 Qxd5 20.Rfe1 Bd6 21.Qxe6+
Black might have made his 35th move at this stage.
21...Kb8 22.a5 Qxe6 23.Rxe6 Nd5 24.Rae1 Nf6 25.h3 h6 26.Nh4 Rd8 27.Nf5 Kc8 28.Nxg7 Nd5 29.c4 Nf4 30.Re8 Kd7 31.c5 Bf8 32.c6+ Kc8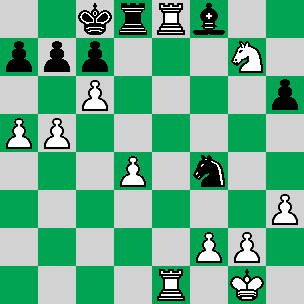 Diagram after Black's 32nd move
33.cxb7+
As White himself pointed out, he overlooked the mate in two by 33.Rxd8+ Kxd8 34.Re8#
33...Kd7 34.Rxd8+ Kxd8 35.b8Q+ 1-0
"Not long afterwards "Alpha" playing the Scotch gambit, scored against H. N. Bowesman. Thereafter the games as finished, apart from a few draws, went almost alternately to one side and the other, Belfast always leading by one point.
The game at top board was watched with close interest throughout, and as it was the last to finish there was a ring of spectators four deep around it at the close. Baker, the Irish champion, opened with a Ruy Lopez, and played a good game from the start. Twice he offered his opponent a piece which was refused. Later on O'Hanlon secured a pawn, and offered the exchange of queens. By first checking with the queen Baker effected the exchange in such a way as to secure a passed pawn, which more than compensated for the loss of material. He had then only knight against bishop, but the black king's movements were restricted by the necessity of keeping near the passed pawn, while the white king was free. A slip by Baker at this stage almost reduced the ending to a draw, but he eventually scored.
At board No.2 a Four Knights game developed slowly, and after three hours play a draw was agreed to with only 25 moves on record. At No.3, a French Defence, an ending was reached with minor pieces and pawns and practically no advantage to either side, here also a draw was agreed close on time.
O'Hagan, at No.4, played the Queen's Pawn opening and secured an advantage which he turned into victory after nearly three hour's play. At No.7 Davies must have had matters largely to his liking, for in the end he had three joined pawns on the sixth and seventh squares with nothing to stop them. His opponent only waited for one Queen to materialise before resigning.
At No.11 the Dublin player was unlucky. He won two pieces for the Rook, but a move or two later, he lost one of them by an oversight, and remained the exchange down. To balance matters, O'Callaghan at No.14 had an easy draw in a queen and Pawns ending, but exchanging Queens at the wrong time he gave his opponent the victory.
At the close of play the score stood 9.5 to 8.5 in favour of Belfast. The first of these was No.5, and this was awarded to Captain Laracy, making the score level. No.6, a Caro-Kann and a very level game throughout was declared a draw. Nos.22 and 23 were awarded to the Belfast men, and No.13 to Dublin, making the final score 12 to 11."
BOARD	BELFAST 		RESULT		DUBLIN			ADJ
1	J. J. O'HANLON		0:1		P. BAKER		 
2	W. J. ALLEN		1/2		T. G. CRANSTON		 
3	H. THOMAS		1/2		T. P. KANE		 
4	J. O'HAGAN		1:0		A. P. WATERMAN		 
5	A. ORR			0:1		P. J. LARACY		X
6	J. W. CAREY		1/2		P. W. WHELAN		X
7	A. L. DAVIES		1:0		R. T. VARIAN		 
8	F. H. PURDY		1:0		J. T. GERRARD		 
9	F. DICKINSON		1:0		H. McILWAINE		 
10	"ALPHA" 		1:0		H. N. BOWESMAN		 
11	S. E. MANDERSON 	1:0		J. REYNOLDS		 
12	J. McMEEKIN		0:1		F. KERLIN		 
13	J. WATSON		0:1		G. B. THRIFT		X
14	H. A. O'CALLAGHAN	0:1		R. FREESTONE		 
15	H. C. LOVE		0:1		H. T. PENROSE		 
16	H. GILL 		1/2		A. E. BEVAN		 
17	H. LEVY 		0:1		D. MIDDLETON		 
18	H. W. CALVERT		1:0		M. J. O'SULLIVAN	 
19	B. ALLEN		0:1		E. RUSSELL		 
20	M. McCARRON		1:0		F. A. BONNER		 
21	G. C. HAMILTON		0:1		D. K. O'SULLIVAN	 
22	T. ROBINSON		1:0		G. R. HAYNES		X
23	W. STEEN		1:0		A. W. H. BREAKEY	X
After tea, H. N. Bowesman, secretary of the Irish Chess Union, on behalf of the visitors, thanked their Belfast hosts for the excellent arrangements (which had been in the hands of the secretary of the Belfast Chess Club, S. E. Manderson) made for their comfort, both at the board and at the refreshment tables.
"Every time they came they were treated in the most cordial and fraternal fashion. They were deeply indebted to them for the trouble they had taken. They did their best in Dublin in a similar way to reciprocate, and the hearty friendship which existed in chess circles in Dublin and Belfast had done much to advance the game in Ireland. He hoped that would always be the case, and the harder they made the boundary the closer would be the bond between Belfast and Dublin chess players."
Harold Thomas, president of the Belfast Chess Club then replied on behalf of the Belfast clubs.
"They had enjoyed the visit of the Dublin players very much. They had had an excellent match, and the close result showed that Dublin and Belfast were well matched. Belfast had won by one game, but the visitors were at the disadvantage of playing off their own ground. It was Belfast's turn to travel next time, and they were already looking forward to the visit. On the last occasion they went they managed to win by a small majority, but notwithstanding that when the time came again they would go to Dublin with considerable trepidation."
Proof of the genuine friendship between the players was shown by the fact that when the visitors left for the 7 p.m. train they were accompanied to the station by most of the Belfast team. So after the third match between the two cities, Belfast was now one ahead in the series. However, if the total number of games was considered, the Dublin players were still ahead by one.