Belfast -v Dublin 1926
Played Saturday 6th February 1926 at Sterling's Cafe, Belfast
The first Inter-City Match, Belfast -v- Dublin, 6th February 1926
by David McAlister
Below is an edited report of the first match taken from the Belfast News-Letter for Monday 8th February 1926.
The remarkable revival of interest throughout Ireland in the ancient game of Chess was further emphasised on Saturday when, for the first time in the present generation, a match took place between Dublin and Belfast.
It was organised by Mr. H. N. Bowesman, of Dublin, in conjunction with Mr. S. E. Manderson, secretary of the Belfast chess Club, and the latter was responsible for the arrangements at the Belfast end, which were carried out very satisfactorily.
It was a purely friendly fixture, nothing depending on it but the little honour that attaches to the winning of a game of pure skill, and it speaks well for the keen-ness of the Dublin players that a team of 19, chiefly business men, could be put together to travel all the way to Belfast and back for the pleasure of playing a single game of chess.
Unfortunately, for a variety of reasons, the same spirit is not displayed in Belfast.
Many of our players show a disinclination to take part in the inter-club tournaments except in the home matches.
This enterprise on the part of the Dublin players and the wider experience thus gained, told in Saturday's match, and they had a comparatively easy victory over the local men, many of whom, from want of serious practice of this sort, were quite exhausted after three or four hours of strenuous play.
The visiting team was almost as strong as Dublin could produce. It included P. Baker, the last holder of the Irish championship, T. G. Cranston, his predecessor in the title, and J. Creevey, ex-champion of Leinster. Only two players were not present who might have strengthened the team, namely, Professor Thrift, who tied with J. J. O'Hanlon in the still undecided championship of 1925, and J. Doyle, the present Leinster champion.
In fairness to the visitors, however, the same thing may be said of the Belfast team, which included J. J. O'Hanlon, the veteran of many tournaments, and three players who have held the Belfast Championship. It was the pick of the local clubs, and not more than three or four players were absent who could with advantage have been substituted for any of the 19.
The visitors arrived by the midday train, and were entertained by their opponents to lunch in Sterling's Cafe, Corn Market, where the match took place.
After lunch the visiting team was photographed, and play began at 2.30.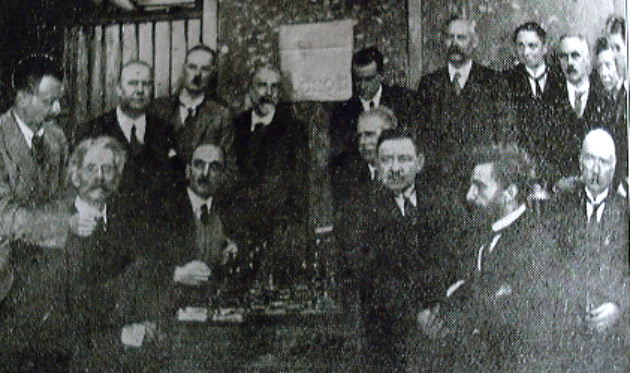 The photograph taken of the Dublin players before play started. Seated in the centre of the picture are three Irish champions. The man with the beard is Philip Baker, champion in 1924, 1927, 1928 and 1929. Next left is James Creevey, winner in 1933 and 1934. Across the board from him is T. G. Cranston, champion in 1922 and 1931.
It was decided that all games not finished by 6 o'clock should be decided by two adjudicators - the two leaders of the teams - so as to allow the Dublin men to catch the train home. [The results of the adjudicated games are marked with an "x".]
1st Inter-City Match, Belfast -v- Dublin,

Saturday 6th February 1926, Sterling's Cafe, Belfast
Board  Belfast          7.5-11.5    Dublin            Opening

1      J.J O'Hanlon       1-0       P. Baker          Ruy Lopez
2      R. A. Williams     1/2x      T. G. Cranston    Queen's Pawn
3      H. Thomas          1/2       N. H. Wallace     Ruy Lopez
4      W.J. Allen         0-1x      J. Creevey        Queen's Pawn
5      A. S. Roper        0-1       T. P. Kane        Vienna
6      J. W. Carey        1/2       A. P. Watkinson   English Opening
7      A. Orr             1/2       P. W. Whelan      Sicilian Defence
8      W. H. Lloyd        1-0       H. McIlwaine      Alekhine's Defence
9      H. Gill            1-0       G. T. Gerrard     Ruy Lopez
10     F. Dickinson       1-0x      "Cu Uladh"        Sicilian Defence
11     F. H. Purdy        0-1       R. T. Varian      Vienna
12     P. McMahon         0-1       L. P. Younglao    Ruy Lopez
13     S. Robinson        0-1       H. N. Bowesman    Bishop's Opening
14     B. McCann          0-1       J. Taylor         Bishop's Opening
15     "Alpha"            1-0       G. B. Thrift      Alekhine's Defence
16     R. J. Cairns       0-1       J. P. M. Cotter   King's Gambit
17     J. McMeekin        1/2       A. Falkiner       Guioco Piano
18     J. Montgomery      0-1       J. Reynolds       Centre Counter
19     W. J. McCaughan    0-1       T. Brett          Sicilian Defence
[One player on each side played under an alias. The real name of Belfast's Board 15, "Alpha", was J.K.L. McKean and Dublin's Board 10, "Cu Uladh", P.T. MacGinley - DMcA]
The game at the top board was interesting as being a fresh trial of strength between two rivals for the Irish Championship. The Northern expert confirmed the form displayed by him at the autumn tournament and early in the game secured a decisive advantage which he turned into victory.
At board number 7 A. Orr, who gave a good account of himself with the Dublin players in the recent championship tournament, again kept his end up by drawing with a strong player in P. W. Whelan.
W. H. Lloyd, at the next board, followed Alekhine's innovation by meeting P-K4 with Kt-KB3 and though the defence seems against all theory, it was in this instance carried to a successful issue. On the other hand, G. B. Thrift adopted it unsuccessfully against "Alpha."
After the unfinished games had been adjudicated, Mr. Bowesman, on behalf of the visitors, said he was glad to be able to say there was no boundary in regard to chess, and that the match had been carried on very cordially on both sides. In the cases where the games had been submitted to adjudication there was not one where the decision was not agreed to absolutely, and the entire series of games were carried on with perfect satisfaction to everybody concerned. On behalf of the Dublin players he wished to propose a hearty vote of thanks to their Belfast hosts for the kind manner in which they had been received him and for the excellent arrangements made for the match. He hoped it was only the beginning of pleasant intercourse in chess between the two cities.
Mr. Cranston, in seconding, said he had some previous experience here, and he was delighted with the hospitality of the Northern players. He hoped they could look forward to the return match being played in Dublin. They, like their opponents, were chiefly business men, and had to leave their business to come, but they had thoroughly enjoyed their visit.
Mr. Manderson, replying on behalf of the Belfast clubs, said they were very pleased to have the Dublin players amongst them, and they hoped the match would become an annual fixture. Belfast had been defeated on this occasion, but they would knock spots off Dublin at their next encounter.
The proceedings concluded, and the visitors left for Dublin by the evening train.
--------------
[The following game has been added to the original article. It was found in T.B. Rowland's chess column in the (Dublin) Evening Herald. The annotations are mine - DMcA]
Belfast -v- Dublin, Board 10
White: "Cu Uladh" [Dublin] Black: F. Dickinson [Belfast]
[Source: Evening Herald, 20th February 1926, page 7]
1.e4 c5 2.Nf3 Nc6 3.d4 cxd4 4.Nxd4 Nf6 5.Nxc6 bxc6 6.Bd3 d6 7.O-O Qc7 8.Be3 d5 9.Nd2 e5 10.exd5 cxd5 11.f3 Be6 12.Bf2 Rd8 13.Re1 Bd6 14.Nf1 O-O 15.Qe2 Nh5 16.Be3 Nf6 17.Bg5 e4
Black goes for complications.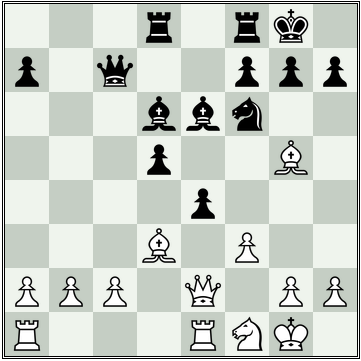 18.fxe4 dxe4 19.Bxf6
(An alternative was 19.Bxe4 Ng4 20.Bxd8 Qc5+ 21.Kh1 Nf2+ 22.Qxf2 (but definitely not 22.Kg1 Nh3+ 23.Kh1 Qg1#) 22...Qxf2 23.Bg5)
19...exd3 20.cxd3
(Dropping a piece. White should have played20.Bxd8 dxe2 21.Bxc7 exf1=Q+ 22.Rxf1 Bxc7)
20...gxf6 21.Kh1 Kh8 22.Rac1 Qd7 23.b3 Rg8 24.Qf3 Rg6 25.Rcd1 0-1
(The game was adjudicated a win for Black)