Strand Rapidplay Championship
Strand Chess Club will launch the 2022/2023 season with its annual Rapidplay Championship.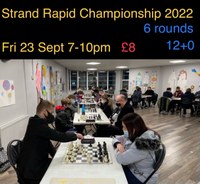 The event will be held on Friday 23rd September from 7 to 10pm. Please arrive at 6:45pm for check-in, remember traffic is always much heavier on Friday nights in the city.
The event will run over six rounds with a time control of 12+0. There are 24 spaces available. Players will need to register to strandchessclub@gmail.com by 16th September and if there is still space, you will be sent the PayPal link to collect the £8 entry fee. As a family friendly club, the 2nd and 3rd players from the same family will get free entry.
The format is one open section, parings by Swiss method. Tie-breaks will be determined by Swiss Master 5.7 in the following order: Median Buchholz, Buchholz, Progressive
Venue address:
Strand Arts Centre, 152-154 Holywood Rd, Belfast BT4 1NY
There will be 7 trophies/shields for this event: 1st/2nd/3rd, Female Champion, Grading Award, Junior Grading Award and Best Newcomer.