Strand Chess Club Annual Blitz
After two years Strand Chess Club is delighted to welcome back its annual Blitz Championship.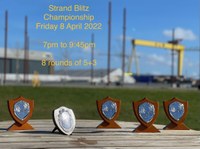 The event will be held on Friday 8th April, 7pm - 9:45pm. The club has purchased 5 engraved shields for the event. Please arrive at 6:45pm to check-in. All clocks will start at 7pm sharp.
The tournament will run as 8 rounds of 5+3. The entry fee of £6 will cover the room hire and shields. Free entry for 2nd or 3rd players from the same family.
Awards for Champion, 2nd, 3rd, grading and junior grading. Limited to 20 places. To secure a spot, players will need to pay in advance by PayPal or bank transfer. Please note that blitz events are usually oversubscribed, therefore places can not be held for players who only register by email or text but do not follow up by submitting their entry fee.
Software: Swiss Master 5.7. Tie breaks determined by computer in the following order: Median Bucholz, Bucholz, Progressive scores.
By entering the tournament you agree to wear a face covering inside the playing hall, to be applied before entering the building. Players with medical exemptions for face masks are required to wear a face shield / visor instead. If a player has cold/flu like symptoms, please stay at home and do not attend the event. We can issue a refund. Similarly, if a player lives with someone isolating due to a positive Covid test result, please refrain from attending the event.
No food allowed in the playing hall but drinks are permitted.
Venue address:
1st Floor, Strand Arts Centre, 152 Holywood Road, Belfast, BT4 1NY.
Register to strandchessclub@gmail.com
If we have not reached full capacity you will be sent the PayPal link or bank transfer details.