League Season 2021/22 Review
Congratulations to Strand 1 and Belfast South 2 (Kelly's Heroes) on winning the Division 1 and Division 2 league titles respectively.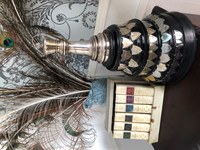 After a year off due to Covid it was great to have the Ulster League back again, albeit with some restrictions in place to safeguard our players. The wearing of masks during games and some other Covid restrictions were added to the league rules. Despite this we had two very closely fought divisions, the emergence of some incredible new talent, the re-emergence of seasoned campaigners, and some general all round exciting chess!!
DIVISION 1
The two stand out teams this year in Division 1 were Strand and Civil Service, though both Ballynafeigh and Belfast South fought hard all season and upset the odds on a few occasions. After 9 rounds Strand led Civil Service by only 3.5 points...but Civil Service had already beaten Strand two out of three times and they were due to play on the final game of the season. On Tuesday of week 10 Ballynafeigh beat Strand by 3-2, giving Civil Service the chance to top the table if they beat Belfast South the following night. However, this was not to be and Belfast South won the match 3-2. Week 11 saw Strand stretch their lead by beating Belfast South after Civil Service had lost to Ballynafeigh. So that left Civil Service the daunting task of having to beat Strand 5 - 0 in the final match of the season to win the title. Half way through the match they had a chance. They were already 1 - 0 up and had good positions in all the other games, but ultimately it was too much to ask against a very strong Strand team. Civil Service won the match 3 - 2 but Strand did enough to win the Silver King trophy!! Congratulations to Strand 1 on their 3rd consecutive title!!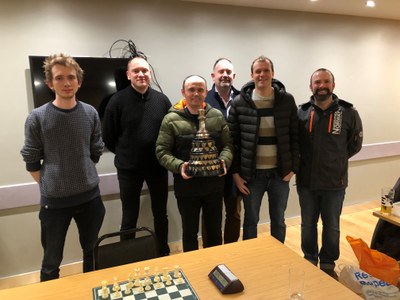 Division 2
This was a closely fought battle by 4 strong teams - Belfast South 2 (Kelly's Heroes), Bangor, QUB and Strand 2. Which would prevail, the wealth of experience of the Bangor and Belfast South teams, or the vibrancy and enthusiasm of the young QUB and Strand 2 teams?
Half way through the season Belfast South (30.5 points) and Strand (28.5 points) had pulled away slightly from the other teams, and their head to head match had been a 2.5 - 2.5 draw. But disaster struck Strand 2. The new rating list came out in January 2022 and 9 year old Ethan Cole took a big jump in his rating. This led to him being played on the wrong board in the matches against Fruithill and Citi Knights. Strand were deducted 5.5 points which effectively took them out of the title race.
This is were QUB picked up the gauntlet and went on a 5 game winning streak including victories against their biggest rivals Bangor (5 - 0), Strand (3 - 2), and Belfast South (3 - 2). Going into the final week Belfast South had 53 points and QUB had 50 points. QUB needed to win big to have any chance of clinching the title, however, they surprisingly lost 3.5 - 1.5 to Civil Service. Belfast South also lost their final game 4 - 1 to Bangor but by that time they were already crowned league champions.
Congratulations to Belfast South 2 (Kelly's Heroes) on winning Division 2!!
FINAL STANDINGS DIVISION ONE
1st place : Strand
8 wins - 0 draws - 4 losses
Total points: 52.5
2nd place : NICS
7 wins - 1 draw - 4 losses
Total points: 48.5
3rd place : The A Team (Belfast South)
5 wins - 2 draws - 5 losses
Total points: 42
4th place : Ballynafeigh
2 wins - 1 draw - 9 losses
Total points: 25
FINAL STANDINGS DIVISION TWO
1st place : Kelly's Heroes (Belfast South)
7 wins - 2 draws - 3 losses
Total points: 54
2nd place : QUB
7 wins - 2 draws - 3 losses
Total points: 51.5
3rd place : Strand
7 wins - 1 draw - 4 losses
Total points: 47.5
4th place : Bangor
5 wins - 3 draws - 4 losses
Total points: 42
5th place : NICS
4 wins - 3 draws - 5 losses
Total points: 35.5
6th place : Citi Knights
3 wins - 2 draws - 7 losses
Total points: 33
7th place : Fruithill
2 wins - 1 draw - 9 losses
Total points: 29.5