Chess Masterclass at Lisburn!
Lisburn Chess Club is proud to announce a new series starting in March - Chess Masterclass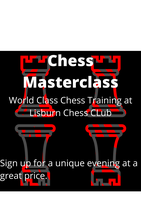 The "Chess Masterclass" series will be available to all and it will consist of regular coaching sessions at the only permanent chess venue in Northern Ireland.
Those who register for an event will be joined via zoom by a FIDE Master or Grandmaster for 90 minutes - putting that lovely new club projector to use! The coach will  begin with a short talk about their experiences as a professional chess player, and then move on to a class designed to help us all improve. You will have the opportunity to ask them some selected questions as well.
The evening can be then finished up with some games - putting all that you've learnt to practice!
The event's first speaker is the talented Argentinian FIDE Master Tomas Kapitanchuk. Tomas Is also a certified FIDE Coach and a lovely guy to boot!
A wonderful opportunity at a truly low cost : £3 for Lisburn Chess Club members & £5 for non-members
Please register your interest with Neil or Martin as spaces are limited.
Club email: lisburnchessclub@hotmail.com