New National Abiters
BREAKING NEWS: Northern Ireland has two new FIDE licensed National Arbiters - Mark Newman and Adrian Dornford-Smith. Report from Brendan Jamison - who has been the main driver for getting National Arbiters and training of Arbiters in Northern Ireland.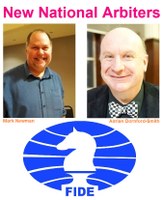 BREAKING NEWS: Northern Ireland has two new FIDE licensed National Arbiters. Congratulations to Mark Newman and Adrian Dornford-Smith.
With Ross Harris and Brendan Jamison now finished their terms with the Ulster Chess Union, it means FIDE rated events can still be held in Northern Ireland under the supervision of Mark and Adrian, hooray!
It brings the total number of FIDE licensed arbiters to 31 throughout the island of Ireland, 5 of which are in Northern Ireland:
Richard Gould NA
Ross Harris NA
Brendan Jamison NA
Mark Newman NA
Adrian Dornford-Smith NA
The above 5 completed the National Arbiter's Course in the Summer of 2015, along with Robert Lavery, Damien Lavery, Damien Cunningham and Geoff Hindley. The training was held by International Arbiters Gerry Graham and Ted Jennings. The 3 day course culminated in a 2 hour written exam and 2 practical tasks involving a digital clock and the chess computer programme, Swiss Master. Of the 9 who sat the exam, 7 passed. Then, to gain NA norms, each participant had to run 2 tournaments in the forthcoming months/years (with at least 30 players) under the supervision of an existing FIDE recognised arbiter. Each of these tournaments were assessed and a report form was sent to the Irish Chess Arbiters Association.  If the candidate demonstrated a high enough standard then their details were sent onto FIDE to gain the official arbiter title. This last part of the process can take anywhere from 6-8 months for FIDE to confer the NA title so overall it can take several years. This is why it is a great achievement when we get a new National Arbiter over the finishing line as everyone benefits from the thrill of getting to play in more FIDE rated events.
It was a real passion to make this happen so today is a special day for local chess.
Brendan Jamison
Director, Chess NI