John O'Hanlon: On the way to the Ulster Championship
This is a slightly revised version of the Time Traveller article originally published by David McAlister in April 2002, marking the centenary of O'Hanlon's victory.
Between 1902, when he won the Ulster Championship, and 1929 when he left his native Portadown to live in Dublin, John J. O'Hanlon was clearly the strongest player in Ulster. He built a reputation outside Ulster too - nine Irish Championship titles between 1913 and 1940; also successes in international events - for instance coming equal first in the Kent County Chess Association Congress at Broadstairs 1921. His co-winner on that occasion was future World Champion Max Euwe, whom he beat in their individual encounter.
The earliest reference to O'Hanlon as a chess player I have found is his playing in a correspondence match between Ireland and the West of England in 1892-1893 and won by Ireland by 50.5 points to 43.5. A report on the match in the Belfast News-Letter for the 11th January 1894 gave the full results of the match and records that O'Hanlon drew with F. Merrick.
Throughout his career O'Hanlon frequently annotated his games for the chess column of the Belfast News-Letter. Of course, later in his career, the newspaper's chess columnist would have been delighted to publish a O'Hanlon game but in 1895 it was something of an honour for an obscure provincial player to have one of his games featured in the paper.
N. N. - J. J. O'Hanlon, 1895
[Annotations from the Belfast News-Letter 14th February 1895]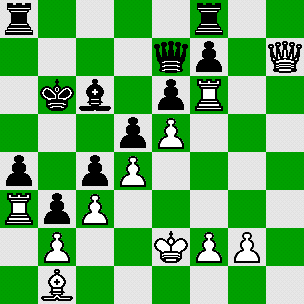 1...Rh8 2.Qxf7 Qxf7 3.Rxf7 Rh1 4.Bg6
If 4.Ra1 a3 5.bxa3 b2 6.Ra2 Rxb1 7.Kf3 Rxa3 8.Rxa3 Ra1 and wins.
4...Rg8 5.Rf6 Rxg6 6.Rxg6 Rb1 7.Rxe6 Rxb2+ 8.Kf3 Ra2
and wins. 0-1
The earliest complete game of O'Hanlon's extant is not against some anonymous opponent, but Joseph Henry Blackburne, one of the best known figures in the chess world at the time. Blackburne was famous for his prowess at blindfold chess - and for the number of colourful anecdotes surrounding his exploits. O'Hanlon fell "victim" to one of those in a simultaneous exhibition given by Blackburne in November 1896.
J. H. Blackburne - J. J. O'Hanlon
Blindfold simultaneous x8, Belfast, 1896
[Annotations by Blackburne in "Mr. Blackburne's Games at Chess"]
1.e4 e5 2.Nc3 Nc6 3.f4 exf4 4.Nf3 g5 5.h4 g4 6.Ng5 h6 7.Nxf7 Kxf7 8.Bc4+ d5 9.Nxd5 Be6 10.d4 Nf6 11.Qd3 Kg7 12.Nxf4 Bxc4 13.Qxc4 Qe7 14.e5 Nd8 15.0-0 Nh7 16.Nh5+ Kg6 17.Qd3+ Kxh5
At this point Black wished to make a few consecutive moves as he had a train to catch. He kindly offered a draw although two pieces ahead.
18.Qf5+ Ng5 19.hxg5 hxg5 20.Kf2 Kh6 21.Bxg5+
"And now the gentleman will be able to catch his train!" I said
21...Qxg5 22.Rh1+ 1-0
In 1897 O'Hanlon joined the Belfast Chess Club as a country member. He played for its team that won the Ulster Trophy in the 1897-1898 season. His own contribution was modest - winning one and losing two on the lower boards.
He was also at this time a member of the Waringstown Chess Club and played on top board for it in a number of friendly matches in the period 1898 to 1901. The regular competition provided by these friendly matches undoubtedly "brought him on" as a chess player. Among these encounters were an adjudicated win over the Ulster champion William Steen in early 1899 in a match against Strandtown, and a draw with Steen's successor, C. E. Smith, playing for Victoria, in January 1900.
Waringstown's most regular opponent in these friendly matches was a team from the County Armagh village of Milford. Here is a win for O'Hanlon against James Riddick from a match between the two village teams played in December 1900.
J. J. O'Hanlon - J. Riddick
Waringstown -v- Milford match, 1900
1.e4 e5 2.Nf3 Nc6 3.Bb5 Nge7 4.c3 a6 5.Ba4 Ng6 6.d4 exd4 7.cxd4 Bb4+ 8.Nc3 h6 9.0-0 Bxc3 10.bxc3 0-0 11.Bb3 Na5 12.Bc2 d6 13.Qd3 Ne7 14.Nh4 Ng6 15.Nf5 Kh7 16.Qh3 Rh8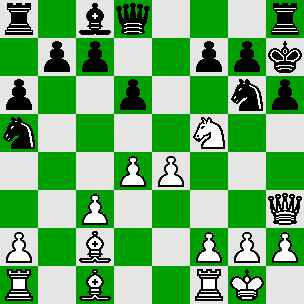 17.Bxh6 Bxf5
The logical follow-up to his previous move would have been 17...Kg8 when the pin on the h-file seems to give White problems justifying his sacrifice.
18.exf5 gxh6 19.fxg6+ fxg6 20.Rfe1 Re8 21.Qh5 Rxe1+
21...Qg5 immediately was better. Although after 22.Bxg6+ Qxg6 23.Qxa5 White is winning, at least Black still has the Queens on the board.
22.Rxe1 Qg5 23.Qxg5 hxg5 24.Re7+ Kh6 25.Rxc7 Re8 26.Kf1 Re6 27.f3 Re3 28.Kf2 Re8 29.Be4 Rb8 30.Rd7 Nc4 31.Rxb7 Rc8 32.Rb3 Nd2 33.Ra3 Rc7 34.Ke2 Nxe4 35.fxe4 g4 36.Kd3 Rf7 37.Rxa6 Rf2 38.Rxd6 Rxg2 39.e5 Rxh2 40.e6 g3 41.e7 g2 42.e8Q g1Q 43.Qh8+ Kg5 44.Rxg6+ Kxg6 45.Qg8+ 1-0
In the 1901-1902 season Waringstown decided to enter a team in the Ulster trophy for the first time and with O'Hanlon at the helm managed to win the competition.
An advantage of the Waringstown connection was that, as its club champion, O'Hanlon was entitled to play in the Ulster Championship. In 1899 he had lost in the first round to R. D. Hill. It was three years before the next contest for the Ulster title took place. O'Hanlon's rivals were J. A. Heaney (Victoria), W. Y. Chamberlain (Strandtown) and J. A. Carey (Belfast). They contested a single-round all-play-all played in April and May 1902. The contemporary records do not give a detailed account of the tournament and record only that O'Hanlon finished first with 2.5 points out of three to win the Championship. One game, however, does survive.
J. A. Carey - J. J. O'Hanlon
Ulster Championship, 1902
1.e4 e6 2.d4 d5 3.Nc3 Nf6 4.e5 Nfd7 5.f4 c5 6.dxc5 Nc6 7.Bd3 Nxc5 8.Nf3 f5 9.0-0 Ne4 10.Bxe4 fxe4 11.Ng5 Bc5+ 12.Kh1 0-0 13.a3 h6 14.Nh3 a5 15.Ne2 Bd7 16.c3 Rf7 17.Ng3 Qb6 18.Re1 Raf8 19.Rb1 Qd8 20.Be3 Bxe3 21.Rxe3 Ne7
22.Ne2
A blunder, removing retreat squares for the Rook on e3.
22...Nf5
White presumably anticipated 22...Ng6 when 23.g3 would have given him a solid defensive position.
23.Qd2 Nxe3 24.Qxe3 Bc8 25.Rd1 Qh4 26.Nhg1 Qg4 27.g3 g5 28.Rf1 gxf4 29.gxf4 Rg7 30.Rf2 Bd7 31.Qh3 Qxh3 32.Nxh3 Be8 33.Rg2 Bh5 34.Nd4 Bg4 35.Nf2 Rxf4 36.Nxg4 Rfxg4 37.Rxg4 Rxg4
and White resigned in a few moves. 0-1
Postscript
In the years 1892 to 1902 there had been six Ulster Championships. However, after O'Hanlon won the title, the series was to end. Whether this was because the Championship was running out of steam, or whether there was a general consensus that O'Hanlon had become too strong to challenge, is unclear to this observer 100 years on.
In 1913 after O'Hanlon won the Irish Championship, he voluntarily relinquished the title of Ulster Champion. He returned the trophy to the care of Robert Olley, honorary secretary of the Belfast Chess Club. In reporting this news on the 16th October 1913, the chess editor of the Belfast News-Letter went on to say that:
"In an accompanying letter Mr. O'Hanlon expresses the hope that should he fail to retain his present title next year, he will be permitted to compete in any tourney to decide the Ulster championship. There is not, we believe, and at any rate there should not be, any rule against this. It is to be hoped in the interests of chess in the northern province that some of our strong players will put forward their claims to the trophy and that a tournament will be arranged in the course of the present season."
Shortly afterwards the Belfast Chess Club held its 66th Annual General Meeting, and on the 30th October the Belfast News-Letter's report on the proceedings dealt with the future of the Ulster Championship:
"The honorary secretary announced that Mr. John J. O'Hanlon, a member of the club, having won the championship of Ireland, had written resigning the Ulster championship, and returning the trophy to the club, whose property it is. After discussion, it was decided that the Belfast club should claim the Ulster championship, and, if challenged, should depute one of its members to defend the claim in tournament or match, subject to conditions laid down by the committee of club secretaries as usual."
No challenge was immediately forthcoming. Perhaps there was no great interest in reviving the Ulster Championship but in any event the onset of war the next year and then the political upheavals in Ireland resulted in their being virtually no competitive activity in Ulster until the 1922-23 season.
In fact the Ulster Championship was only restarted in 1933, after the official formation of the Ulster Chess Union the previous year. No longer would organisation be left to the ad hoc committee of club secretaries.
However when the 1933 Championship was played, the winner did not receive the "Silver Rook", the trophy first won by Robinson in 1892 and relinquished by O'Hanlon in 1913. Over 20 years after the new series began, Albert Long, then secretary of the Ulster Chess Union wrote to O'Hanlon about his recollections of the earlier series, including what had happened to the original trophy. In his reply dated 9th May 1956, O'Hanlon confirmed that he had returned the trophy to Olley, and added:
"Mr. Olley either left Belfast or retired from the chess world about this time [October 1913], and I afterwards made several inquiries about the Trophy, but nobody knew anything about it."
All the Championship winners between 1933 and 1959 only received a plaque and there was no perpetual trophy. Then in 1960, coincidentally the year O'Hanlon died, Dr. McSparran presented the present Ulster Championship trophy to the Ulster Chess Union.