The Time Traveller - Blackburne Simultaneous Exhibition
First published in the Ulster Chess Chronicle in October 2002
J. H. Blackburne simultaneous blindfold exhibition,
Irish Chess Association Congress, Belfast 1886
by David McAlister
The 2nd Irish Chess Association Congress took place in September 1886 at Queen's College, Belfast. Among the competitors was the leading English player, J. H. Blackburne. There were nine players in the tournament, and Blackburne received the bye in the round for Saturday 25th September. However, Blackburne was going to embark on something more strenuous than a mere tournament game that day - a blindfold simultaneous exhibition against 8 strong amateur players.
The Belfast News-Letter for Monday 27th September reported on the exhibition:
"The principal feature on Saturday, and one which had the effect of causing a good attendance, including a number of ladies, was Mr. J. H. Blackburne's exhibition of blindfold chess, which was a splendid performance, and one which exemplified in a very marked degree the great blindfold strategist's proficiency in the game, that gentleman playing eight simultaneous games. Out of the eight three were won by Mr. Blackburne - viz. those against Messrs. Godwin, Nicholls and Peake; two were drawn, those in which he had Messrs. Mill and Hill as opponents; and one lost, that against Mr. Harvey. Time did not permit the other two games being finished - those in which Messrs. Palmer and Tennant were concerned, but they were adjudicated in Mr. Blackburne's favour. The game with Mr. Harvey was a very stubbornly contested one, and was not concluded until an advanced hour, Mr. Harvey playing a good sound game throughout. The game with Mr. Peake did not continue long, as Mr. Peake, losing his queen at an early stage, was obliged to resign. Mr. Blackburne's performance is all the more remarkable when the length of time he had to play without intermission is considered, play commencing punctually at five o'clock, and continuing until almost half-past eleven. A visit to the examination hall on Saturday was well repaid, as witnessing such a feat is not within the reach of the Belfast public every day."
J. H. Blackburne - E. L. Harvey, Blindfold simultaneous, Belfast, 25th September.1886
[Annotations by Harvey in the Belfast News-Letter for the 2nd December 1886]
Play through the game in our viewer

1.e4 e6 2.d4 d5 3.Nc3 Nf6 4.Bg5 Be7 5.Bxf6 Bxf6 6.Nf3 dxe4 7.Nxe4 0–0
Black's last two moves are not sound. White can at once advance the pawns on the king's side with a winning game.
8.c3 Nd7 9.Bd3 Re8 10.0–0 b6 11.Qe2 a6 12.Rad1 Bb7 13.Rfe1 Nf8 14.Ne5 Ng6 15.Nxf6+ Qxf6 16.Bxg6 hxg6 17.Rd3 Rad8 18.Rg3 c5
A hazardous move, leaving the bishop's pawn isolated but one which white should have prevented by b4.
19.dxc5 bxc5 20.Qe3 Rd5 21.Nd3
If 21.Rf3 Rxe5 22.Qxe5 Bxf3 23.Qxf6 gxf6 24.gxf3 Drawn game.
21...Red8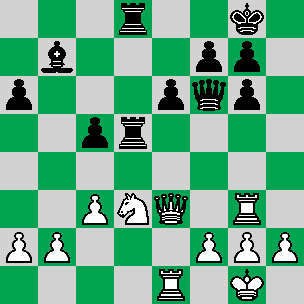 A strong move which gives black the better position. 22.Qe4 seems to be white's best reply. If 22.N moves Re5 or 22.Rf3 Rxd3. Mr. Blackburne mentioned after the game that he had overlooked that black could leave his c-pawn en prise.
22.Qe2 c4 23.Nb4 Rd2 24.Qe3 a5 25.Qb6 axb4 26.cxb4 R8d4 27.Rf1 Rxf2 28.Ra1 Rfd2 29.h3 and white resigned. Black mates in four moves, commencing Qf2+