An Irish Chess Champion in Liverpool, 1887
First published by the Time Traveller in November 2002
An Irish Chess Champion in Liverpool, 1887
by David McAlister
The Irish Chess Union was formed in 1912 and its first champion the following year was an Ulsterman, John J. O'Hanlon. But he was not the first Ulster player to hold the title of Irish chess champion. That honour belongs to Richard Barnett, who won the title at the 2nd Irish Chess Association Congress, held in Belfast in the autumn of 1886.
The Irish Chess Association was formed in 1885 and only lasted until 1889, but during that time it had a profound effect on Irish chess life. One of its high profile ventures was a match against the strong Liverpool Chess Club on the 8th October 1887. The I.C.A. went down to a heavy defeat by 6.5 points to 2.5, but Barnett, playing on Board 2, secured a draw in his individual encounter with the very strong English amateur the Reverend John Owen. The defence 1.e4 b6 is known as Owen's Defence, because of the frequency with which he played it. In the following game he uses a similar idea with the White pieces.
Rev. J. Owen, - R. W. Barnett: Liverpool Chess Club -v- Irish Chess Association: Liverpool 1887
[Notes by Barnett in the Northern Whig 3rd November 1887]
Click to play through the moves in our game viewer
1.e3 d5 2.b3
2.d4 is more usual than the Fianchetto continuation, which tends to give Black a strong centre.
2...e5 3.Bb2 Bd6 4.Nf3 f6 5.d4 e4 6.Nfd2 Ne7 7.c4 c6 8.Nc3 0–0 9.Be2 f5 10.g3 Be6 11.Qc2 a6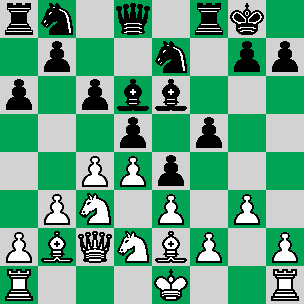 12.f3
A lost move, which gives Black time for development.
12...Nd7 13.f4 c5
Premature.
14.cxd5 cxd4
If 14...Nxd5 ; 15.Nxd5 Bxd5 16.Bc4 with a strong game.
15.dxe6 dxc3 16.Qxc3 Nf6 17.Qd4 Nc6 18.Qc4 Kh8 19.Bxf6 Rxf6 20.Rd1 Qe7 21.g4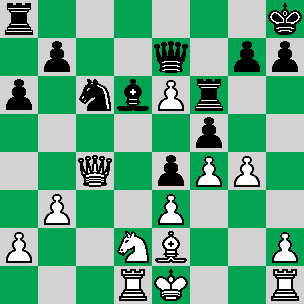 21...fxg4
21...Rxe6 seems tempting for Black, but analysis fails to disclose a mate. The probable continuation is 22.gxf5 Qh4+ 23.Kf1 Bxf4 24.fxe6 Bxe3 25.Kg2 and Black hardly seems to have an equivalent for his sacrificed Castle.
22.Nxe4 Bb4+ 23.Kf2 Rxe6 24.Ng5 Rf6 25.Qd3 g6 26.Qd7 Bc5 27.Qxe7 Nxe7 28.Bxg4 Rxf4+ 29.Kg3 Bxe3 30.Rd7 Rxg4+ 31.Kxg4 h5+ 32.Kh4 Nf5+ 33.Kh3 Bxg5 34.Rg1 Rd8 35.Rxd8+ Bxd8 36.Rxg6 b6 and after a few more moves the game was drawn by mutual consent.
Liverpool Chess Club    6.5    Irish Chess Association    2.5

A. Burn                 2.0    J. A. Porterfield Rynd     0.0
Rev. J. Owen            0.5    R. W. Barnett              0.5
S. Wellington           0.0    J. Morphy                  1.0
W. W. Rutherford        1.0    A.S. Peake                 0.0
J. Cairns               2.0    E. L. Harvey               0.0
G. Ferguson             1.0    J. Thompson                1.0