Lisburn Chess Rooms - the Grand Opening
Opening officially to all at midday the 6th November (Saturday) at 60-62 Longstone Street.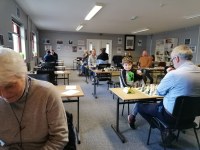 Lisburn Chess Rooms
It's finally happening and we just have to share the good news.
Here are some details about the Lisburn Chess Rooms:
They are currently open Thursday evening from 7pm to 9.30pm and Saturday 10am until 1.30pm.
The club has 17 permanent chess boards, a kitchen, a lounge, a bathroom, and a chess library! There is also a teaching room available! What more could you ask for?
The club has many ambitions and they plan to host regular league play as well as UCU rated tournaments and casual games. The club is covering all bases as there is also opportunity for newcomers to get some training and support.
Lisburn Chess Rooms are open to everyone! It is the first of its kind in Northern Ireland, and so in order to support this initiative the club asks for a nominal fee per visit. However, if you see yourself actively participating in the club by play or training, you can contribute via monthly subscription.
Why not join the Lord Mayor and the First Minister in supporting the Grand opening, and help Ulster move forward like never before.
Venue: Lisburn Chess Rooms, 60-62 Longstone Street
Date: Saturday, 6th November 2021
Time: Midday
There will be food and refreshments available along some casual play, and a fun Bullet tournament.
A huge and heartfelt congratulations from the UCU to Neil and Martin, and long may it continue!