Des Forson 1964-2013
Des Forson, longtime member of the Ulster Chess Union, died in a Whiteabbey hospice in the middle of November. David Houston, friend and contemporary, remembers Des - on and off the chess board.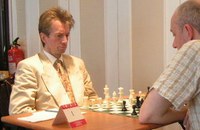 Des at the 2008 Ulster Championship
It is with great sadness that I have to write about the untimely death of long time UCU member and friend Des Forson. I was expecting a visit from Des to discuss the Carlsen - Anand World Championship match only to be shocked that he had passed away on the 13th November in Whiteabbey Hospice from prostate cancer at the age of 49. Despite having recently bumped into Des he never mentioned his illness but all he did talk about was his latest trip to the far east.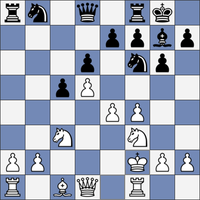 I first came across Des as a fresh faced teenager with spikey, dyed blond hair playing for Carrick Chess club. Des was a good solid player with a deep understanding and background knowledge of chess. We later played together on the same team for Queen's University and enjoyed many adventures on journeys to chess tournaments. We had many a deep conversation over a pint or 2 into the idea that playing 1.d4 (Des's favourite opening) actually made you a boring player.  Over the years we had many tough struggles in the Benko Gambit as Des researched the latest lines and nuances. In particular I remember
1.d4 Nf6 2.c4 c5 3.d5 b5 4.cxb5 a6 5.bxa6 Bxa6 
6.f4 g6 7.Nc3 Bg7 8.Nf3 O-O 9.e4 Bxf1 10.Rxf1 d6 
11.Kf2 
and tip-toeing down the a-file. Lines we battled over many times.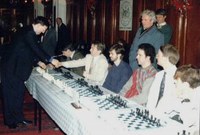 Des was always an avid reader and had a very large collection of chess books which he had stored in many boxes sorted by opening, best games and instructional. In his later life he stopped competing in tournaments but still came to the AGM and Ulster Championships. At these UCU events he indulged in his latest hobby of photography which, Des being Des, he had researched extensively into which lens and film was best for photographing chess. One of our last conversations was about "super foods" as Des was munching away on avocados and pistachio nuts for lunch at the 2013 Ulster Championships.
Des's life outside chess was often very private so It was very typical that he never mentioned his illness to his chess playing friends. At least I know that he would be happy that Carlsen bored Anand with d4 into winning the World Championships. He will be sorely missed.