Bangor hold double Simul with Eddie Hanzharov and Brendan Jamison
24 players gathered in Groomsport on Thursday 10th November for a double simul with Eddie Hanzharov (1688) and Brendan Jamison (1842).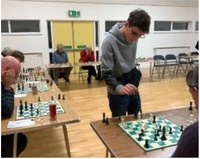 Over the course of 2 hours 40 minutes, Eddie played 12 opponents, scoring 5 wins, 4 draws and 3 losses. This was Eddie's first ever simul so Bangor Chess Club was delighted to host this special event and he received a big round of applause at the end of the night! The 4 draws were against Jacob McClean, Ken Browne, Walter Wilson and Alan McBurney. Very well done to Louis McKnight, Craig Kelly and Richard Proctor, all scoring excellent victories. On the other side of the hall, Brendan took on 12 players and his simul ran for 60 minutes, scoring 12/12.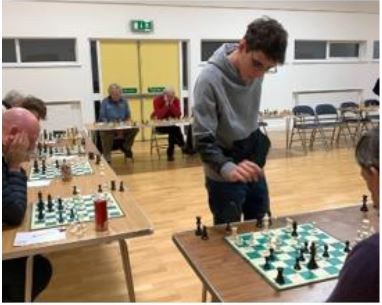 Congratulations to the 6 medal winners:
| Eddies Simul | Brendans Simul |
| --- | --- |
| Gold: Louis McKnight | Gold: Nathan Woodhouse |
| Silver: Graig Kelly | Silver: Josh Whearty |
| Bronze: Jacob McClean | Bronze: George Gamble |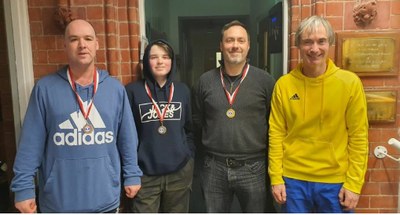 Left-right: George Gamble (bronze), Josh Whearty (silver) and Nathan Woodhouse (gold) with Brendan Jamison