Eddie Hanzharov wins Gold Coast Blitz with 6/6
On 17th November, Bangor Chess Club held its last FIDE-rated event of 2022, the Gold Coast Blitz.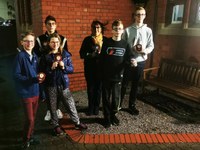 Congratulations to Eddie Hanzharov (Strand Chess Club) who won the event with 6/6 and a TPR of 2183. In fact, Eddie did the double as he also won the October FIDE blitz at Groomsport. With a current blitz rating of 1688, this event will catapult Eddie into the 1700s when FIDE publish the 1st December rating list.
In second place, 13 year old Peter McNab ended with a very impressive 4.5/6 and is now expected to make his FIDE blitz debut following his wins at this event and the victories from last month too.
When it came to 3rd place, 4 players tied on 4 points, Albert McCarter, Andrew Campbell, Richard McClean and Louis McKnight. The tie-breaking system allocated Albert 3rd but he asked to have the shield presented to the next in line which was Andrew Campbell.
Very well done to the other 3 prize-winners, Bernie McCarthy was crowned Female Champion, Jacob McClean won the Junior Champion and Julia McNab was awarded 'Best Newcomer'.
On the other side of hall, 20 players were battling it out in 2 league matches. Congratulations to Bangor A for defeating Fruithill 1 with a 3-2 victory, meanwhile Bangor B drew with QUB.