May 2023 FIDE Rating List
Report by Brendan Jamison, FIDE National Arbiter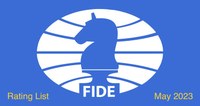 We held 5 FIDE-rated tournaments in Northern Ireland during the month of April, helping 23 more players get over the finishing line to make their FIDE debuts in classic, rapid and blitz time controls.
Holding the Ulster Team Rapidplay Championships at the City of Derry Chess Club on 22nd April enabled several players from the North West to make a debut today. Many more are on the tip of achieving an official rating, needing only one or two more games against a FIDE-rated opponent. The requirement is a minimum of 5 opponents with an existing FIDE rating and this can be spread over multiple tournaments. The new player must get at least one victory and their Tournament Performance Rating (TPR) must be over 1000 in each tournament.
As an explanation for the many newcomers, in terms of FIDE, there is no UK-wide federation for FIDE, there's only the individual nations of English Chess Federation, Welsh Chess Federation and Chess Scotland. The Irish Chess Union is classed as Ireland Federation (abbreviated to IRL) with FIDE and covers all events held in the Republic of Ireland and Northern Ireland. Therefore new players, competing in their first ever FIDE event in Northern Ireland, will automatically be assigned IRL as their home federation on their FIDE profile. If a player then moves overseas to a new country, they can request (through the rating officer of their new chess federation) to switch their FIDE profile to the new country they are living in.
In terms of opportunities for classic ratings, the City of Belfast Championships will get rated on 1st June, as will the U1800 Strand Summer Classic, a two day event at 60+0, scheduled for Saturday 27th and Sunday 28th May. We also have the Queen's University FIDE Rapid Championship scheduled for Saturday 20th May. Remember to book and prepay early for these events as we often get oversubscribed beyond venue capacity.
In terms of next season, the plan is to launch the new FIDE speed chess touraments with the City of Derry Rapid Championship on Saturday 9th September at the Verbal Arts Centre, followed by the City of Bangor Congress on Saturday 23rd September at Groomsport Parish Hall.
On that note, now that Bangor Chess Club has 3 FIDE-licensed Arbiters and 55 members, it will be running two FIDE events per month at Groomsport, a FIDE blitz on the first Thursday and a FIDE rapid on the third Thursday of each month.
Congratulations to the 23 players below, all achieving a FIDE debut on 1st May 2023:
Leroy Harris (City of Derry Chess Club) makes his FIDE rapid debut at 1718:
https://ratings.fide.com/profile/2525186
Gerard McIlroy (no club) makes his FIDE rapid debut at 1671:
https://ratings.fide.com/profile/2525100
16 year old Ben McIlroy (no club) makes his FIDE rapid debut at 1664:
https://ratings.fide.com/profile/2525097
Dara Jennings (Galway) makes his FIDE blitz debut at 1622:
https://ratings.fide.com/profile/2525461
John Paul Harkin (City of Derry Chess Club) makes his FIDE rapid debut at 1612:
https://ratings.fide.com/profile/2525178
Henry Byrne (no club) makes his FIDE rapid debut at 1593:
https://ratings.fide.com/profile/2525062
Michael Sheerin (Lisburn Chess Club) makes his FIDE rapid debut at 1579:
https://ratings.fide.com/profile/2513366
James O'Fee (City of Bangor Chess Club) makes his FIDE classic debut at 1526:
https://ratings.fide.com/profile/2514923
Tom Grey (QUB Chess Club) makes his FIDE classic debut at 1506:
https://ratings.fide.com/profile/2520133
Mikolaj Liszewski (no club) makes his FIDE rapid debut at 1440:
https://ratings.fide.com/profile/2523086
Jade Sandrey (QUB Chess Club) makes her FIDE classic debut at 1436:
https://ratings.fide.com/profile/2517990
John Sweeney (City of Derry Chess Club) makes his FIDE rapid debut at 1388:
15 year old Anayraj Tripathi (Lisburn Chess Club) makes his FIDE blitz debut at 1380: