IM Mark Orr to headline Ulster Rapidplay 2023
International Master Mark Orr, the most renowned player to ever come out of Bangor Chess Club, will be be returning on 15th April to play in the Ulster Rapidplay Championships at Groomsport!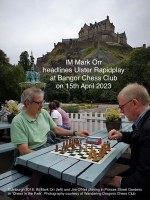 Mark joined the school chess club at Bangor Grammar at age 13 and then joined Bangor Chess Club, enjoying many games with Ron Henderson RIP, one of the club's founders (club established in 1965). Mark left Northern Ireland to study at university in Edinburgh but he regularly played internationally for the Irish team and was also crowned Irish Champion in 1985.

Brendan Jamison states, "IM Mark Orr is an absolute chess legend, his name appears engraved on all the historic cups and trophies in the Ulster Chess Union. He won the title of Ulster Champion 4 times, twice as the outright winner in 1985 and 2002. In 1998, he was joint champion with local powerhouses Keith Allen and David Houston and he shared it again in 1989 with Keith Allen. Bangor Chess Club and the chess community-at-large are extremely excited to see him back in Northern Ireland. His presence will create a real buzz."

Now aged 67, Mark has entered the Ulster Rapidplay Championships, to be held at Bangor Chess Club on Saturday 15th April 2023. The club welcomes him back with open arms…

For further information on Mark Orr, please see the UCU archives here: https://www.ulsterchess.org/archives/playerbio/Mark%20Orr/autobiography

It costs £12 to enter the Ulster Rapidplay Championships (payable in advance to secure a place). It will be 8 rounds of 20+0. Chief Arbiter: Brendan Jamison. We have maximum capacity for 50 players so book and prepay early! Remember entrants will need to be members of the UCU or ICU.  To enter the competition please email fidechessni@gmail.com. Full event details on the upcoming events section.