North Belfast Rapid 22nd Oct - tournament report
On Saturday 22nd October, 33 players gathered at the magnificent Duncairn Arts Centre for the North Belfast Rapid Championship. The top section was FIDE rated and the junior section was UCU rated (for players rated 0-1100).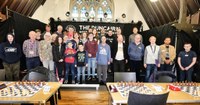 Hosted by Roaming Knights at its one year anniversary, Club Director Paul O'Connor welcomed visitors with a special chess cake and cups of tea and coffee. Played over 5 rounds of 12+0, the event attracted players from many of the top.clubs around Northern Ireland, notably Strand, Lisburn, Civil Service, Fruithill, Bangor, Greenisland and Queen's University, Belfast.
Paul O'Connor runs chess sessions at the cafe in Duncairn Arts Centre on Wednesdays, Fridays and Saturdays. On Tuesday mornings, he also runs the Roaming Knights session at Belfast Central Library.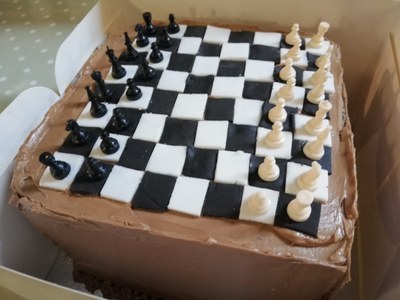 One of the highlights of the day was seeing 8 females competing, a quarter of the entire entry list. This bodes well for our continued drive to increase female participation in the game and hopefully it will inspire other clubs to remain committed to promoting chess for all genders.
There were 7 shields and 5 large newcomer medals up for grabs. Congratulations to the 12 prize-winners:

Champion: Richard Morrow (4/5)
2nd: Gatis Barbals (4/5)
3rd: David Hill (3.5/5)
Newcomer medal of merit: Jonah McConnell (3/5)
Newcomer medal of merit: Josh Whearty (2/5)

Junior Champion: Daniel Hill (5/5)
Junior Female Champion: Saoirse Rippon (4/5)
Junior 2nd: Achyut Shyamsunder (4/5)
Junior 3rd: Declan Doherty (3/5)
Newcomer medal of merit: Conor Murphy (3/5)
Newcomer medal of merit: Peter Murphy (3/5)
Newcomer medal of merit: Emma Walsh (3/5)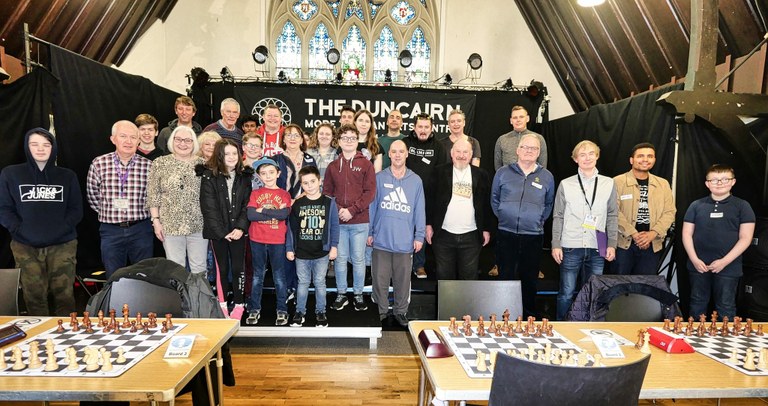 This was event 5 of 10 in the NI Rapid Grand Prix 2022/2023. A total of 80 players have taken part so far, with current leaders Richard Morrow (top section) on 40 points and Daniel Hill (junior section) with 33 points. Of the 47 in the top section, 4 have been promoted from the junior after their rating passed the 1100 threshold. The complete table can be viewed online here: http://www.brendanjamison.com/fidenigrandprix.html
The next event in the NI Rapid Grand Prix is at Greenisland FC on Sunday 30th October. The deadline has already passed for this competition but we still have space free at event 7 in Omagh on Saturday 3rd December. Contact organiser B. Jamison if you are keen to play fidechessni@gmail.com