FIDE U1800 Newry Summer Classic - Sunday 14th August
Some 32 players gathered in Newry at the Sticky Fingers Art Centre to play in the FIDE rated event organised by Brendan Jamison.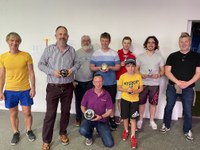 Tournament  report by B. Jamison, FIDE National Arbiter

Congratulations to Dean Gorman of Lisburn Chess Club, crowned champion with the perfect score of 4/4. Followed closely behind with 3.5/4, the 2nd Place shield was awarded to Conor Spackman of Strand Chess Club. Meanwhile, Richard Morrow of Bangor Chess Club won the bronze shield on tie-breaks with 3/4. Also on 3/4, Belfast South's Chris Armstrong won the Grading Cup.

Returning to NI for just two weeks from St. Andrew's in Scotland, Aaron Wafflart won the Junior Grading Award with 3/4.

All the way from Hungary, Cathal Murphy's nephew Simon Murphy scored 3 points to win the cup for Best Young Player at age 11.

From West Belfast, we were delighted to see Craig Robinson win the Best Newcomer award after several great wins. We look forward to having him play in many more upcoming events.

It was also wonderful to have Joe O'Hanlon and Nikolai Dimitrov travel up from Dublin to compete. We also attracted many players from the nearby Warrenpoint Chess Club. May it continue to grow in the season ahead.