Mark Seidman awarded Honorary Membership of Bangor Chess Club
On Friday 25th February 2022, the committee members of Bangor Chess Club voted unanimously to award Honorary Membership to Mark Seidman.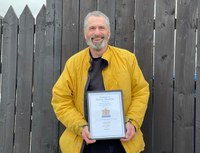 Projecting a tremendous warmth, grace and kindness through all his actions, Mark served as the dedicated Club Secretary for a decade, completing his term on 31 December 2021. Although Mark has now retired from the local chess scene, he will always be welcomed back to the club with open arms.
About 5 years ago, during a period of dwindling numbers at the club, Mark was the magnet that held everything together. Although living in Bangor, he volunteered several hours every Thursday night to drive back and forth from Groomsport to Ards to pack his car full of players unable to drive. His enthusiasm to get players to the club and create a welcoming environment was a great inspiration. Creating a gentle atmosphere to allow everyone to blossom, this was the magic ingredient that Mark brought to the club. It lay the foundations for what would become a club renaissance over the past 4 years. He also came armed every week with a bottle of milk and made his way around every member to check if they would like a tea or coffee.
As the keyholder, Mark was always the first to arrive to set up the tables and sets and packed everything away at the end of each night. He was always the first to offer coaching to any newcomers or play friendly games with anyone not involved in a league match or a competition. In many ways Mark was the quiet angel of the club, working away in the background to ensure everyone's happiness on the night. The next time you wander into the building at Groomsport, look at the beautiful illuminated stain glass windows down the left side of the entrance hall, that's how much Mark's goodness and light radiated to all our members.
Founded in 1965, Bangor is the longest continuous running chess club in Northern Ireland, now in its 57th year. It operates like a mini chess federation, with officers for all the key administrative roles + a team captain, equipment secretary and child protection officer.  In January 2019, the club began bestowing Honorary Memberships on players who made a vast contribution to the running of the club. Mark is now the 7th to receive such an honour.
Mark Seidman (25 February 2022)
Mark Newman (7 December 2021)
Tony Beckett (11 September 2021)
Ron Henderson RIP (2 November 2021)
Martin Rodgers (5 October 2019)
Michael Sheerin (4 April 2019)
Brendan Jamison (4 April 2019)