Sad loss of Dr Tom Esmonde
Tom Esmonde was a player who was greatly respected and a man who gave to the World. We were lucky to have him in our chess World.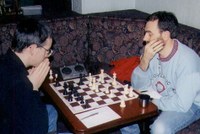 Just wish to let members know that sadly Dr (Sir) Tom Esmonde passed away on 24th July. Tom was an excellent chess player who enjoyed the game. He played for Lagan Chess Club and before that for Civil Service Chess Club.
https://rip.ie/death-notice/thomas-esmonde-belfast-antrim/465162
Funeral Service at St. Brigid's Parish, Belfast at 11am on Friday, 30th July, followed by private cremation at Roselawn Crematorium at 8:45am on Saturday, 31st July. Funeral Service may be viewed on https://youtube.com/channel/UCECKga_N93kdxngxRJMuvUw
Some thoughts from friend and fellow chess player Chris Kelly :

"Many in the chess world will have been saddened to hear of the death of Tom Esmonde. Tom played for many years at Civil Service and later with the same group at

Lagan. He was an excellent player, consistently holding his own on the upper boards of Division 1.

Tom worked as a Consultant in the N.H.S, and on occasions when our paths crossed, I found him considerate and helpful, always having time to listen to concerns; generously lending sage advice when needed.

Tom was also a talented pilot and talked with great animation about his recent flights, indeed he

had toyed with this as a second career.

Despite knowing him personally and professionally for many years, I was unaware

until the last few days he was a Baronet with title. Given his humility this does not surprise me. He will be missed. All of us in the chess community pass their sincere condolences

to his family."
Article on Dr (Sir) Tom Esmonde: https://www.irishnews.com/notices/livesremembered/2021/07/31/news/dr-tom-esmonde-totally-dedicated-consultant-and-perfect-gentleman-2404198/
Photo: Tom in play against Michael Holmes in the 2002-3 UCU Leagues.
Read at his mass - and from his favourite poetry book - a poem that encapsulates the wonderful Tom.
The Thousandth Man
0NE man in a thousand, Solomon says.
Will stick more close than a brother.
And it's worth while seeking him half your days
If you find him before the other.

Nine hundred and ninety-nine depend
On what the world sees in you,
But the Thousandth Man will stand your friend
With the whole round world agin you.

'Tis neither promise nor prayer nor show
Will settle the finding for 'ee.
Nine hundred and ninety-nine of 'em go
By your looks, or your acts, or your glory.

But if he finds you and you find him,
The rest of the world don't matter;
For the Thousandth Man will sink or swim
With you in any water.

You can use his purse with no more talk
Than he uses yours for his spendings,
And laugh and meet in your daily walk
As though there had been no lendings.

Nine hundred and ninety-nine of 'em call
For silver and gold in their dealings;
But the Thousandth Man he's worth 'em all
Because you can show him your feelings.

His wrong's your wrong, and his right's your right,
In season or out of season.
Stand up and back it in all men's sight
With that for your only reason!

Nine hundred and ninety-nine can't bide
The shame or mocking or laughter,
But the Thousandth Man will stand by your side
To the gallows-foot - and after!
Rudyard Kipling