The league has started Week 1 - Civil Service two teams get their first matches
Many thanks to League director Ross Harris and assistant Chris Dorrian. We have face to face matches. With players who havent played face to face for sometime able to enjoy slow focused chess. Yipeee!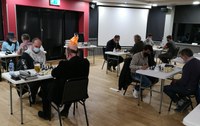 This years sees some new teams and new players. Civil Service have a second team and Titanic Knights have joined the league with the assistance of players borrowed from the new club Greenisland Chess Club.
With Covid precautions in place. Face masks on and plenty of hand gel and distancing. But the Chess is still the same - traps in openings - pieces left on-pris - endgames asking the question what is the right strategy - the beauties of Chess.
The CIvil Service Second team met at home in the Pavilion on Weds 13th October. To play away team Bangor.
It was good to see familiar faces and just to say hi. Richard Proctor and Sam Moore I hadnt seen for a while.
Then the players sat down to play and silence fell in the room.
The last two games being played were Sett and David. David had been a piece up but Richard through complications had got it back and the position was quite complicated. Sett lost and the games were 2 all so Davids game would determine the match result. Nail biting - it looked like David was ahead but short on time and Richard had potential threats.  Then it was all over David offered a draw and Richard accepted.
So the first match over with a draw each team 2 1/2 points. So good to have league matches back face to face.
Civil Service 2 (home)
Bangor
Cathal Murphy
0 - 1
Sam Moore
David Jackson
1/2 - 1/2
Richard Proctor
Sett Podean
0 - 1
Geoff Sterrett
Adrian Dornford-Smith
1 - 0
George Gamble
Amole M Thoke
1 - 0
Alwyn Pollock
2 1/2 - 2 1/2
The first match of the Civil Service A team was on the friday at the Strand Cinema. The venue was perfect. Plenty of ventilation and hand gel and space for distancing.
There were two matches. Civil Service A against Strand A and Fruithill against a young Strand B.
I got to play as reserve on Board 2 against Calum Leitch. He led for most of the game but I was lucky his King was exposed and I got a Queen fork on a Rook allowing me to sacrifice a Rook for a pawn and get into an endgame with Queens and Pawns - and then a bit more luck and I could check and threaten the Queen so Queens had to come off, taking with a pawn that was now passed. I was very lucky. Also after chatting to our brilliant new player Tahmankar he was also lucky to get a win. Karina got an excellent draw off Modestas.
But a brilliant start for us.
| | | |
| --- | --- | --- |
| Civil Service 1 | | Strand 1 (Home) |
| Tahmankar Mandar | 1 - 0 | Robbie Wright |
| Mark Newman | 1 - 0 | Calumn Leitch |
| Chris Kelly | 1/2 - 1/2 | Conor Spackman |
| Karina Kruk | 1/2 - 1/2 | Modestas Razbadauskas |
| Richard Gould | 0 - 1 | David Hill |
| | 3 - 2 | |
The Strand 2 team won 5 : 0. A brilliant result for such a young team.
| | | |
| --- | --- | --- |
| Strand B (home) | | Fruit Hill |
| Khanzharov, Edward | 1-0 | Toal, Michael |
| Rushe, Adam | 1-0 | Wilkinson, Chris |
| Patterson, Jake | 1-0 | Elwood, Evan |
| Patterson, Calvin | 1-0 | Shaw, James |
| Cole, Ethan | 1-0 | Brown, Robert |
| | 5-0 | |