Bangor Team Rapidplay Championships
On Thursday 7th April, Groomsport Parish Halls will host a 3 round Team Rapidplay Championship from 7:30pm to 9:30pm. 20 minutes per player per round (each game will last approximately 40 minutes).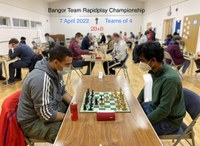 This free entry event is designed to give team experience to the 11 new Bangor members this season. It will also function as prep for the club's league team as they prepare for the Ulster Team Rapidplay Championships on 16th April. At present there is a draft plan of 4 teams playing an all-play-all with 4 players in each squad. The club has capacity for a total of 6 teams on the night.
Squad example 1:
Board 1: Sam Moore 1403
Board 2: Ken Browne 1150
Board 3: Alwyn Pollock 975
Board 4: George Gamble 822
Squad example 2:
Board 1: Richard Proctor 1290
Board 2: Caleb McClean 1200p
Board 3: Jacob McClean 1000p
Board 4: Reuben McClean 1000p
Please remember that user groups of the church hall are required to apply their face covering before entering the building.
Deadline for registration is Thursday 31 March at 7:30pm.
Entries to bangorchessclubni@gmail.com