Ladies Day with WIM Trisha Kanyamarala
Ladies Day returns to Greenisland FC Chess Club and we're delighted to announce that will the current Irish Ladies Champ, WIM Trisha Kanyamarala will be joining us!
For the second Ladies Day of the 2022-2023 season, we're returning to the location where we started the series – Greenisland FC Chess Club!
We continue to be able to run these events for FREE thanks to the hospitality of UCU clubs in providing us with a venue. Previous hosts include, Lisburn, Civil Service and Queen's University.
The event on 26th February will run from 1pm to 4pm, and as well as our casual play & coaching, puzzle solving elements, this time we will also welcome a special guest, Ireland's first WIM, Trisha Kanyamarala!
Trisha played her first FIDE-rated tournament in 2014, and 6 years later, became Ireland's first WIM. In 2021 she won the silver medal at the European Youth Championships (U16 girls) and then in 2022, she became the Irish Women's Champion with a perfect score, 5/5!
Trisha has kindly agreed to join our event and discuss her games. Trisha's insight will surely teach and inspire our existing female players as well as any newcomers!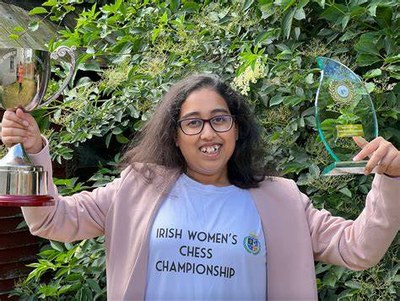 The event is inclusive of all playing levels, so whether you have played chess before or would like to start, we would love to see you at the event!
To register, please contact Women's Development Officer via karinakruk37@gmail.com