Sad loss for Ulster Chess. Peter Wilson passed away.
RIP Peter Wilson, died suddenly 23rd March 2022.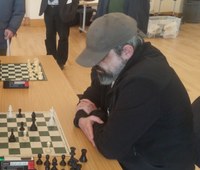 Fellow Chess player and friend Nick Pilkiewicz said he was devastated by the news after recieving a phone call from Peters brother.
In recent years, Peter was team captain for the Mallusk chess team, relocating them to Muldoon's Bar at Belfast docks. He also served for a year on the UCU Executive Board during the 2014-2015 season. Peter played his last rated game on the 22 May 2019. It was in the annual summer tournament, against Bernard Jaffa. RIP Peter.
He will be missed. Our thoughts are with his family.
https://www.funeraltimes.com/christopher-peterwilson151107037
Anyone wishing to pay their respects to Peter are welcome from 12.30pm on Thursday 31st March 2022 at Bairds Funeral Home, Antrim, before the family leave at 1pm to go to Roselawn Crematorium.