It is with deep regret that I announce the death of Mr. Dennis Thorpe.
Steve Scannell remembers Dennis Thorpe who sadly passed away 15th May 2022.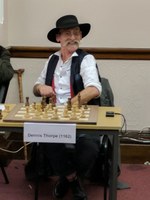 "It is with deep regret that I announce the death of Mr. Dennis Thorpe.
Dennis passed away this past Saturday Evening in RVH with his son and daughter by his side.
Dennis was a long time Ulster player, Team Captain of many teams and a good friend to many players.
When I came over from the States in '95 it wasnt long before I met him.
What a dynamo! Dennis could discuss any subject and was a powerhouse of organising. I saw him as a walking trivia question having Captained four winning teams in the Belfast League in four different divisions. That's an achievement which will never be even equalled. It just goes to show with all the teams, what a golden era we had 20-40 yrs ago.
Long time North Belfast and highly rated Steven Morgan remembers that in his early days he gained his spurs with Dennis' Carrickfergus team. One of my happiest days was spent with Dennis at Steven's wedding.
Dennis could speak his mind which could ruffle a few feathers. Him and I have been critical of the Ulster Senior's dress code and format.
On a lighter side, Dennis was a good friend to many and touched a number of players with his goodwill and sense of humour.
My world is emptier without him as are others on this sad day of his burial.
Rest In Peace, Dennis".
Steve Scannell  (19th May) fondly remembering Dennis Thorpe.