News story: Elephant Chess Sculpture creates magic trail across Belfast city centre
International sculptor Brendan Jamison has created a chess-themed charity sculpture for the NI Hospice in a special city-wide art spectacle this summer. From 20th June, 30 uniquely designed Elmer elephants will appear on the streets of Belfast to form the biggest-ever public art trail the city has ever seen, running for ten weeks until 31st August 2022.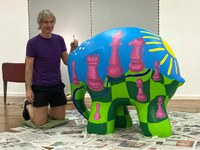 With a blaze of colour and creativity, Elmer and his friends bring a ton of fun and laughter to our local area. After what has been a difficult time for everyone, this Trail is a chance for the whole community to come together to recover, heal and have some fun! This free outdoor walking trail will provide a much-needed boost to everyone's wellbeing and the local economy.
Artist Brendan Jamison said, "it has been an honour to work on this project to help raise funds and awareness about the incredible work done by the Northern Ireland Hospice. Every year, 4000 babies, children and adults receive special end-of-life care from the NI Hospice. The work they do is incredible, no cancer charity is more deserving of our support. Long may they continue to do such vital work for our local communities."
Jamison's sculpture is located outside the skyscrapers of the BT Tower and Hilton Hotel at Lanyon Place. The piece was sponsored by KPMG and is accompanied by a short text on the artist's concept:
"The game of chess originated in India in the 7th Century, a country renowned for its respect for elephants, not only aiding the construction industry but also playing a key role in special ceremonies whereby the elephant is adorned in vibrant colours. 'Chess Elmer' celebrates the richness of this culture in a fun and playful fashion, imbuing the optimism and magic of colour. Pink chess pieces move across green fields in a chequered landscape, under a bright blue sky and the warm glow of a yellow sun, radiating beams of happiness out into the world."
The NI Hospice outlines how "the Trail is open to everyone and we hope that as many people as possible will explore all or parts of the fully accessible trail over the summer. You can pick up a copy of a beautifully hand-illustrated map at key town centre locations across Belfast or use the official Trail app to help you explore. Download Elmer's Big Belfast Trail app from the App Store or Google Play for FREE. It will show you the location of each Elmer and the herds of small Elmers, along with information about our Official Partners, Sponsors and artists. Each Elmer will have a unique app code. Once you tap the code into your mobile device, it will reveal some exciting rewards for you to download."
When their time in Belfast has ended the Herd will travel across Northern Ireland, stopping off for the weekend in Ballymena, Derry/Londonderry, Newry and Enniskillen and arriving back to Belfast for a final farewell on Saturday 8th October 2022.
And after entertaining and bringing people together, the legacy of Elmer's Big Belfast Trail continues as many of the sculptures will be auctioned to raise vital funds for the Northern Ireland Hospice.