Bangor Classic - Beginning Saturday 11 September 2021 9:30am to 11:30am
An outdoor flexible tournment brought to us from Bangor Chess Club and chess organizer Brendan Jamison.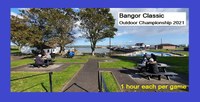 Bangor Classic - Outdoor Chess Championship 2021
Round 1 - 9:30am to 11:30am on Saturday 11 September 2021
Time control: 60+0
Location: Groomsport harbour picnic tables (located between main road and Cockle Row cottages).
Entry fee: £20 for non-members of Bangor Chess Club
£10 for members of Bangor  Chess Club
Engraved trophies awarded to prize-winners.
To secure a place in the competition, entrants need to pay their fee in advance to arbiter B. Jamison by bank transfer, Revolut or Paypal. This fee covers the entire competition (i.e. players do not pay per round).
For full details of rules and how to participate please go to webpage : http://www.chessni.co.uk/bangorclassic.html
Where possible, players will be paired against opponents within 200-300 rating points.
All rounds will begin at 9:30am. Future dates will be emailed in advance of each round (weather conditions need to be checked before announcing the specific day).
Please note we are playing on picnic tables and have extremely limited capacity. You must book in advance to check there is space available.
Flexible tournament format. You do not need to play each week but you must book a spot before each round. The aim is to have at least 6 rounds played during September and October.
Please wrap up warm. At least 3 to 4 layers of clothing is recommended. You may also wish to bring along a flask of coffee or tea to sip during the game.