Bangor Chess Club hosts special simul match with chess champion Andrew Todd
The QUB player goes 7.5/11 at Groomsport Parish Hall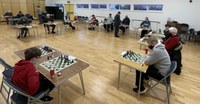 On Thursday 31st March, 11 Bangor players had White against multi-award-winning chess champion Andrew Todd. Played over two hours, a simul requires marathon-like stamina, maintaining intense concentration as the champion moves from one board to the next, making one move at a time. Andrew is a member of Queen's University league team and his last simul was delivered at Aberdeen University in 2017.
The club thanked Andrew for volunteering to hold the simul. It proved very enjoyable and one of the highlights of the season. Congratulations to the three players who scored a victory against Andrew. The evening saw a high standard of attacks across all 11 boards.
First to win was Richard McClean, taking the gold medal after swapping off Rooks to win a Bishop in the endgame.
Sean Donaghy won the silver medal after delivering an excellent opening attack on the f7 square, winning a Rook for the Knight. Andrew responded in the middle-game with a build up of tactical pressure on Sean's Kingside but with enough pieces still on the board to hold the fort, White was able to work on gobbling up material on the Queenside.
Newcomer Louis McKnight scooped the bronze medal with his victory at the end of the night. It was one of the most exciting games of the evening and lasted 140 minutes. Louis sacrificed material to create a strong attack on Andrew's Kingside and after a series of exchanges, he went into the endgame with a Rook and 5  pawns to Andrew's Rook, Knight and 1 pawn. With expert King placement, Louis secured the victory as his fellow Bangor players watched on with great admiration.
Ken Browne also played very well to secure a draw. Andrew delivered 7 beautiful wins overall, making him the March 2022 Simul Champion. The final score was Bangor (White) 3.5 – 7. 5 Andrew Todd (Black). This was the forth and final simul of the season. The other three results over the season were:
February 2022 Simul:
Bangor (White) 0.5 - 9.5 Brendan Jamison (Black).
January 2022 Simul:
Adam Rushe (White) 13.5 - 0.5 Bangor (Black)
December 2021 Simul:
Danny Roberts (White) 12.5 - 2.5 Bangor (Black)
Meanwhile on the other end of the hall, the Bangor league team destroyed league champions Belfast South with a 4-1 win, with excellent victories by Sam Moore, James O'Fee, Richard Morrow and Richard Proctor.
The chess club is now in its final month, with the last night on 28th April. The new season will begin again on Thursday 1st September. The club meets on Thursday nights at the Church of Ireland Groomsport Parish Halls on Main Street. 7:30pm to 10:30pm. Newcomers are always very welcome and advised to drop in early at 7pm. Remember a face covering. The club attracted 11 newcomers this season and hopes to welcome many more.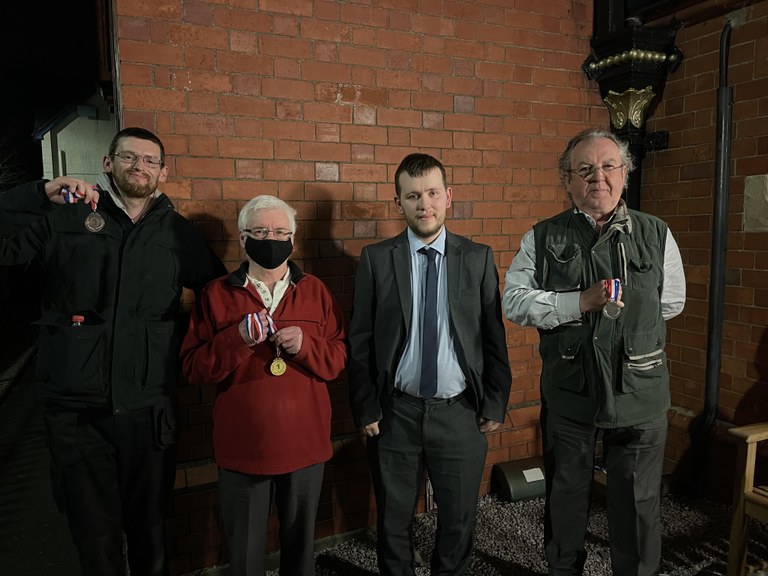 Left to right: Simul winners: Louis McKnight (Bronze), Richard McClean (Gold), Chess Champion Andrew Todd and Sean Donaghy (Silver)