The virtual league 2020 Civil Service at home to Ballynafeigh
On the evening of Weds 21st October 2020 10 players were ready to play at home on line. To play slow chess 90mins each. Civil Service faced a tough match against Ballynafeigh - whose boards go from Ulsters top players to 1400 players.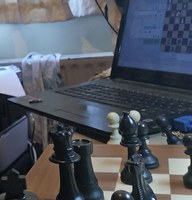 The first round of games left both Bangor and Civil Service leading the lead both on 31/2  points. having drawn their match 2 1/2 each.
This second week saw possibly the favourites playin Civil Service. Some close games and some suprise results. But the thorough strength of the Ballynafeigh team saw them come away with a victory of 3 - 2. Below are the results and some positions from the games. Civil Service remain at the top but really only because they are the only team to have played 2 matches.
The league standings:
Position
Team
Points

Games

Played

1st
Civil Service
5.5
2
2nd
Ballynafeigh
5
1
3rd
Bangor
3.5
1
It is good to have the league up and running - again thanks to our League controller Evan Elwood and Vice Controller Ciaran Rowan.
The next matches are :
| | |
| --- | --- |
| Tue 3 Nov 20 | Ballynafeigh (Home) v Bangor |
| Wed 11 Nov 20 | Civil Service (Home) v Bangor |
| Tue 24 Nov 20 | Ballynafeigh (Home) v Civil Service |
| Thur 3 Dec 20 | Bangor (home) v Ballynafeigh |
After this a rapidplay team league will be organised for the New Year. So think about your teams for this.
And if you wish to play slow games we have the Winter Tournament on Monday evenings where time limit is 90mins per player: https://www.ulsterchess.org/Members/ucu00450/winter-tournament-2020-21/winter-tournament-2020-21-week4 and for those who like Blitz theres the Sunday Grandprix tournament at 4:15pm each Sunday (see - https://www.ulsterchess.org/Members/ucu00450/winter-2020-grandprix-blitz/round-2-sunday-november-8th-4-15-5.30 ) except over the weekend of  when there is the virtual Belfast Masters for more details see : https://www.ulsterchess.org/Members/ucu00450/ulster-masters-2020-virtual/virtual-ulster-masters-2020
Plenty of chess to play - enjoy.
Board 1 David Houston v David Blair

The game after Blacks 30th move. I dont think theres a clear advantage.

Its White to move and David Houston plays 35 Kf2 the analysis suggests 35 Rxc1 Rxc1+ Rf2

After 36 Bxd1 Black has the excellent move Rc2+ using the threat of Queening the pawn.

At this point Black is forcing the pawn to Queen. By blocking the b-file with the Bishop after the White King moves.

Board 2 : Mark Newman v Robert Lavery

White attacks in the centre. But no great threats.

After some swaps; Theres a nice diagonal hitting the Rook. A sequence of swaps allows White to gain a pawn.

Having won the pawn I go awry - castling would have been good - developing the Rook and also saving the Pawn and stopping Black from developing the Rook with check and then pushing it to e6 threatening the Queen.

 

I got a lucky fork with the Pawn and win the Knight and Robert resigned.

Board 3 : Eoin Carey v Chris Armstrong

Black played 9. ... Qxe2 bringing out the White Bishop that had previously been blocked by the Queen. The recommended move is 9. ... Be6

With a clever sequence of moves White gains a pawn.

Black castles. 15. ... O-O-O 16. Nxf7 and white gets back the exchange and a pawn.

Eoin Carey wins the Endgame.

Board 4 : David Jackson v Paul McNaughten.

I put this position up as I enjoy playing this opening as Black. Whos has sacrificed a pawn for development and play.

An interesting position - White has just plated 12. h3 - the move proposed for Black is 12. ... Rxe2 with all Blacks forces targeting the White King. Possible moves are 13. Rxe2 Bxf3 14. gxf3 Ne5. Black declines this and plays 12. ... Bxf3.

The pieces swapped White develops his Bishop 15 Bf4. A possible alternative is 15 Bxc6 bxc6 16 Bf4 Bb6

Black now has the extra pawns  and hopes to swap Queens to get a won endgame.

White resigns. Game over.

Board 5 : John O'Doherty v Paul Anderson

Black picks up the unprotected Pawn on d4 with 13. ... Nxd4 - but was it really unprotected? White plays 14. Bxg6 swapping Bishops but attacking the now undefended Black Knight. Blacks recommended move was 13. ...Qc7

Paul misses an opportunity - the line 19. ... Bxf4 20. Nxh8 Kf8 chasing two pieces for the Rook. White still maintaining the advantage but Black pusing back.

White has a forced mate in three. John went on to win.