Tournament Report: 46 enter Valentine's Day Blitz
VALENTINE'S DAY BLITZ, Sunday 14 February 2021 run by Brendan Jamison.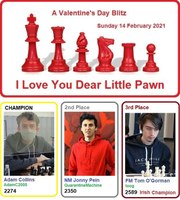 Congratulations to Adam Collins, ending on 30 points and the very well deserved champion of today's Valentine's Blitz. With 27 points, NM Jonny Pein sealed second place and Irish Champion FM Tom O'Gorman came 3rd with 24 points, even after entering the tournament late. It was such a joy to have players of this calibre competing as it created such a buzz amongst all the players.
In total 46 had signed up for the event, including quite a few newcomers which we loved having in the tournament, especially Iain McGuinness and his two young sons Nathan and Conan. It was two hours of total chess fun from 10:30am to 12:30pm, with a time control of 5+3. A big thanks to everyone who played and made the event so special.