One week left and then Prize Giving and Quick play time handicap
The summer tournament has one week proper play left. Followed a week latter by the Prize Giving and a Quick play handicap tournament. Hows the standings - whos fighting to win.....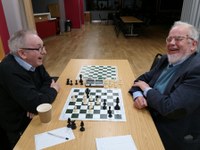 Week 20 and the draw gets harder. We have players who have played for 19, 18, 17 weeks. So some players are being paired against each other for the 3rd time.
Somehow I managed to get some wins and lead the tournament. This week I played the highest rated player in the tournament Robert Lavery.
Paul Anderson had a good win against David Seaby. Adrian Dornford-Smith took Cathal Murphy to the wire and lost with time trouble blundering a piece. Roy Stafford and Barney McGahan played a tough endgame with Roy winning. Jim McLean and James O'Fee agreed a draw. Whilst Geoff Hindley won against Derek Trusdale. David Ruben pushed his extra pawns to win against Stewart McConaghy. My game against Robert - I attacked the King with a potential sacrifice of a piece (not taken) and managed to open up Roberts King and swap off into a good endgame with a couple of pawns up. A tense game, I breathed a sigh of relief at the end its always difficult not to loose against Robert.
The standings after week 20.
Mark Newman leads on 80% but could loose a point if I dont get to play this week!
Cathal Murphy leads the Intermediate section on 75% close to Mark.
Whilst Ciaran Rowan leads the juniors section on 72.7%
So all very close.
| | | | | |
| --- | --- | --- | --- | --- |
| Name | Rating | Played | Points | % |
| Senior Section | | | | |
| Mark Newman | 1664 | 10 | 8 | 80.00 |
| Ian Woodfield | 1576 | 13 | 8 | 61.54 |
| Robert Lavery | 1683 | 13 | 7.5 | 57.69 |
| David Ruben | 1572 | 17 | 9 | 52.94 |
| Peter Wilson | 1415 | 1 | 0.5 | 50.00 |
| Bobby Thompson | 1490 | 10 | 4.5 | 45.00 |
| Chris Armstrong | 1421 | 15 | 5.5 | 36.67 |
| Richard Gould | 1563 | 2 | 0.5 | 25.00 |
| Christopher Kelly | 1528 | 2 | 0 | 0.00 |
| Intermediate Section | | | | |
| Peter McGuckin | 1348 | 2 | 1.5 | 75.00 |
| Cathal Murphy | 1306 | 10 | 7.5 | 75.00 |
| Roy Stafford | 1121 | 18 | 12 | 66.67 |
| Bernard Jaffa | 1376 | 11 | 6 | 54.55 |
| Barney McGahan | 1195 | 14 | 7 | 50.00 |
| Adrian Dornford-Smith | 1217 | 16 | 7.5 | 46.88 |
| Stewart McConaghy | 1307 | 16 | 7 | 43.75 |
| Junior Section | | | | |
| Ciaran Rowan | 984 | 11 | 8 | 72.73 |
| Geoff Hindley | 980 | 15 | 9 | 60.00 |
| David Seaby | 1023 | 17 | 9.5 | 55.88 |
| Derek Truesdale | 938 | 15 | 7 | 46.67 |
| Paul Anderson | 903 | 14 | 5 | 35.71 |
| McLean, Jim | 1067 | 19 | 5 | 26.32 |
| James Fairley | 914 | 7 | 1.5 | 21.43 |
| Andy Boal | 804 | 6 | 0 | 0.00 |