Summer Tournament with only 3 weeks of competition left
The standings, after 18 weeks of chess and only 3 weeks of competition left. Whos winning. Whos close - and a reminder that players need to play 2 out of the last 3 weeks...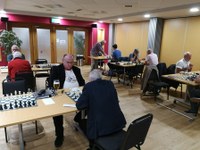 We have had some brilliant chess over the summer. With a drop-in format so that players can just turn up and play - its always fun.
The view of cricket on the grounds of the social club adds to the summer evenings.
On week 18 we had  12 players and a couple of upsets. Robert Lavery was beating Chris Armstrong when suddenly Chris played a sacrifice that led to an attack and the winning back of some pawns - Chris went on to draw the game. Mean while Bobby Thompson beat David Ruben and David Seaby brought Stewart McConaghy to a pawn endgame that was close but Stewart Queened first and won the game. Barney McGahan drew against Roy Stafford a pawn up but with Rooks still on the board there was no way to force a win. Ciaran Rowan won against Jim McLean and he goes into the lead of the Junior section with a score of 70%.
For full results - see the competition results page : https://www.ulsterchess.org/competitions/competitions/comp-3032/cvt_event/standings/560#tabhead
We are not into the last 3 weeks - so the 3 week rules come into effect:
Rules
1. Players must complete 10 games to be considered for prizes.
2. If a player does not play in two of the last three rounds they will be assumed to have played and lost 2 games. If they play only one then they will forfeit one game.
3. However if a player has played 14 or more games then they are exempt from rule 2.
4. Scores will be calculated on a percentage basis.
| | | | | |
| --- | --- | --- | --- | --- |
| Name | Rating | Played | Points | % |
| Senior Section | | | | |
| Mark Newman | 1664 | 9 | 7 | 77.78 |
| Robert Lavery | 1683 | 11 | 7 | 63.64 |
| Ian Woodfield | 1576 | 13 | 8 | 61.54 |
| Peter Wilson | 1415 | 1 | 0.5 | 50.00 |
| David Ruben | 1572 | 15 | 7 | 46.67 |
| Bobby Thompson | 1490 | 9 | 4 | 44.44 |
| Chris Armstrong | 1421 | 14 | 5.5 | 39.29 |
| Richard Gould | 1563 | 2 | 0.5 | 25.00 |
| Christopher Kelly | 1528 | 2 | 0 | 0.00 |
| Intermediate Section | | | | |
| Peter McGuckin | 1348 | 2 | 1.5 | 75.00 |
| Cathal Murphy | 1306 | 9 | 6.5 | 72.22 |
| Roy Stafford | 1121 | 16 | 11 | 68.75 |
| Bernard Jaffa | 1376 | 11 | 6 | 54.55 |
| Barney McGahan | 1195 | 12 | 6 | 50.00 |
| Stewart McConaghy | 1307 | 14 | 7 | 50.00 |
| Adrian Dornford-Smith | 1217 | 14 | 6.5 | 46.43 |
| Junior Section | | | | |
| Ciaran Rowan | 984 | 10 | 7 | 70.00 |
| David Seaby | 1023 | 15 | 9.5 | 63.33 |
| Geoff Hindley | 980 | 13 | 7 | 53.85 |
| Derek Truesdale | 938 | 13 | 6 | 46.15 |
| Paul Anderson | 903 | 13 | 4 | 30.77 |
| McLean, Jim | 1067 | 17 | 4.5 | 26.47 |
| James Fairley | 914 | 5 | 1 | 20.00 |
| Andy Boal | 804 | 6 | 0 | 0.00 |