8 year old Ethan Cole wins simul at Greenisland FC with score of 16-0
The recently created Greenisland FC Chess Club hosted its first simultaneous exhibition on Friday 16th July.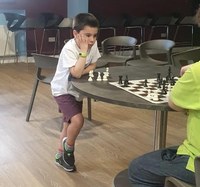 The Club gave a warm welcome to local youth Champion Ethan Cole (age 8). He simultaneously played 16 games against the Junior Members of the Club. Ethan, chose to play with the black pieces and managed to win all his games.
He played from 7:15pm to 9:00pm and in doing so he also managed to clock up 22,000 steps moving between the boards. Commenting at the end Ethan said he was not tired, but his feet hurt!
There was some excellent chess played by the GFC players but Ethan proved a little too strong at this time, but it certainly gave our players an example of what practice can achieve.
The last three players standing were Charys Jardine, Evan McCartney and Max Hudson. We look forward to learning more and getting Ethan back to see how we have progressed.
Well done to all the players at the event.
Chris Dorrian, Greenisland FC Chess Co-Ordinator